Burrowed in a storied nook of London's Docklands, there's a Grade II listed building. For a city that is simply pulsing with public houses, The Gun exists without the fanfare and ferocity of those closer to the city itself but radiates with a quiet confidence and is a must-visit for anyone kicking about the Docklands on a languid afternoon. A box of delights for any visitor to the city disheartened with the bulging crowds of Shoreditch or Oxford Circus who seeks a few hours of authentic London. But obviously, there's more to The Gun that that.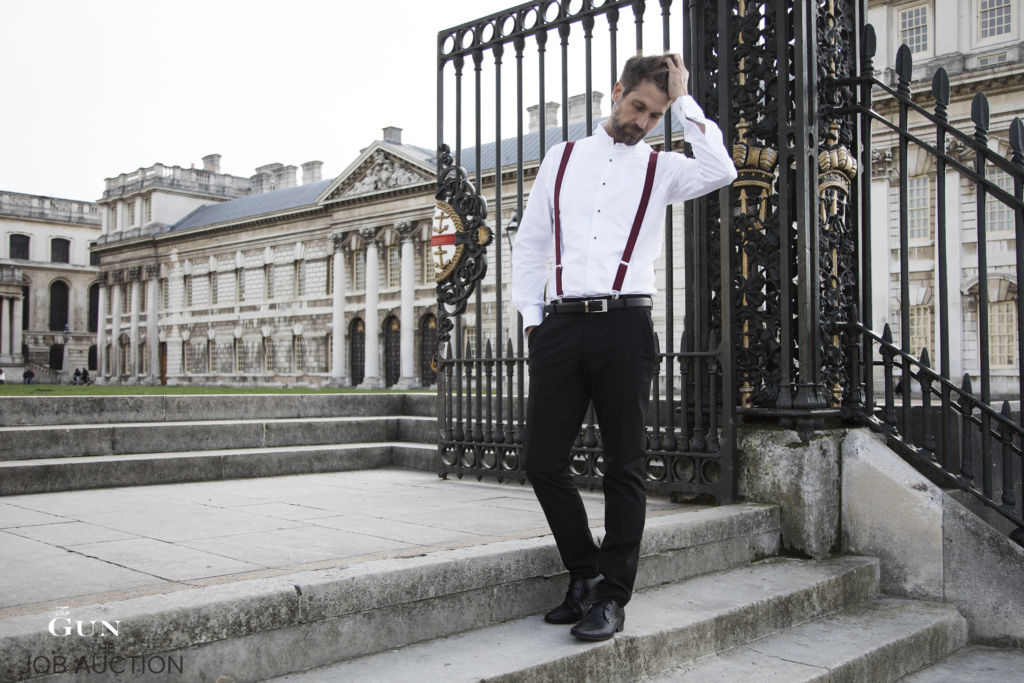 A Legendary Past
Any Grade II listed building's existence reliably informs you that those bricks you're staring at have historic significance and are protected by a higher power. The Gun has a glorious naval history due to its symbiotic relationship with the Thames. Originally opened in the early 19th century to commemorate opening to West India Import Docks, it went on to become a regular haunt of near-mythic British naval hero, Lord Horatio Nelson. The walls bleed with secrets as smugglers often used the pub to store contraband; decorated war heroes and clandestine characters moving within feat from one another.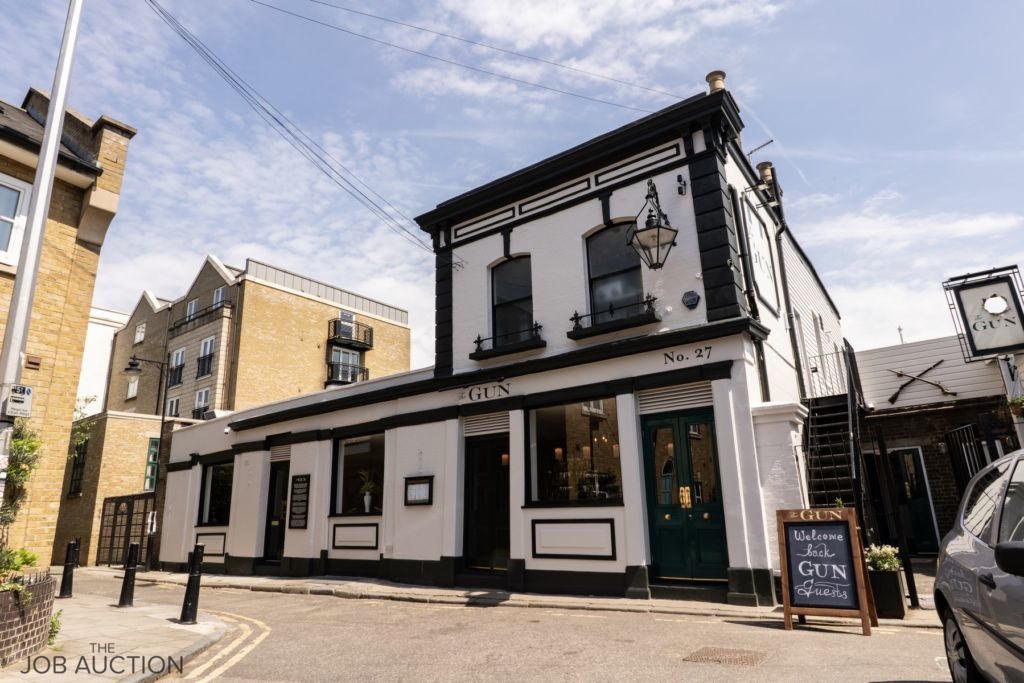 A Deal a Day
Swing by The Gun from Monday to Sunday and you're going to be pleasantly surprised by the booze and food deals. Siphoning off 15% of wine on Wednesdays and steak on Mondays isn't all. A fount of free cocktails for you and your friends if you order from their a la carte menu on Friday, a recipe for a boozy lunch. Truly though, if you're out of the office one lunchtime grab a pie and a pint for £15 and satisfy a craving you didn't even know you had.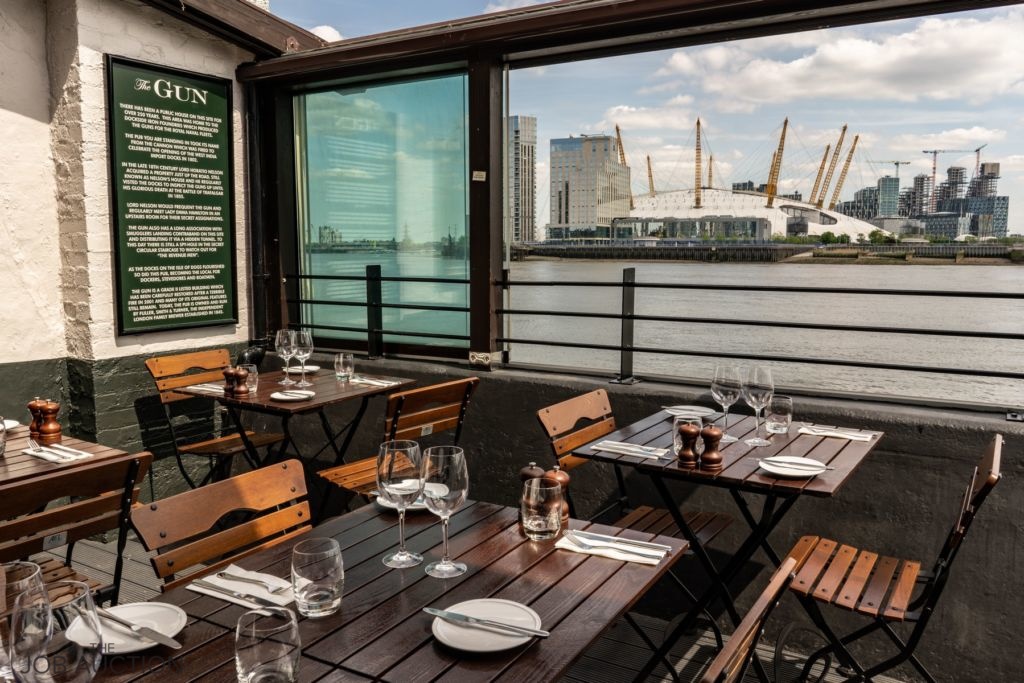 The View
A full belly and a warm, real-ale-glow are really only truly fulfilling when you're gazing towards a golden hour vista, as the last embers of the afternoon blush the sky and the rippling River Thames ochre. The gentle lapping of the water and chorus of cormorants is a perfect soundtrack to your peace. There is simply nowhere you can truthfully say you'd rather be when the dice-lottery of London weather rolls a six.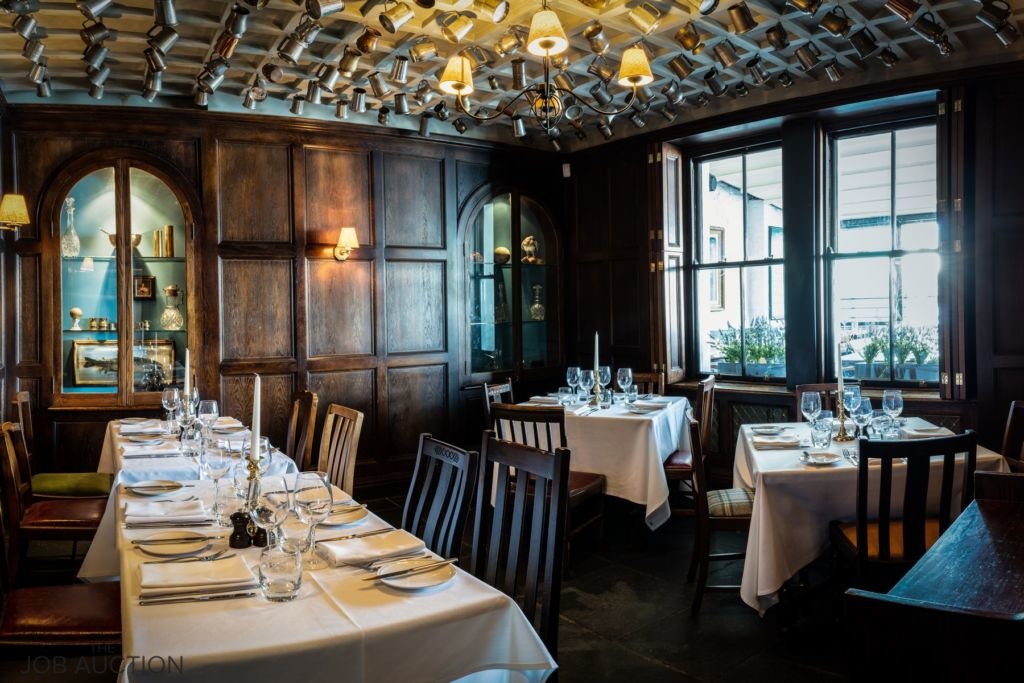 Fine Dining
A cosy watering hole for regular punters and East London ramblers, The Gun, with its grand history and life-affirming views is also an attractive spot if you're looking to celebrate or impress. The numerous function rooms also offer the white-cloth and candelabra that has been eschewed by the majority of the London pub and restaurant scene in favour of open brickwork and pots of cutlery. This more formal dining experience refreshes a Londoner so accustomed to casual restaurant interiors.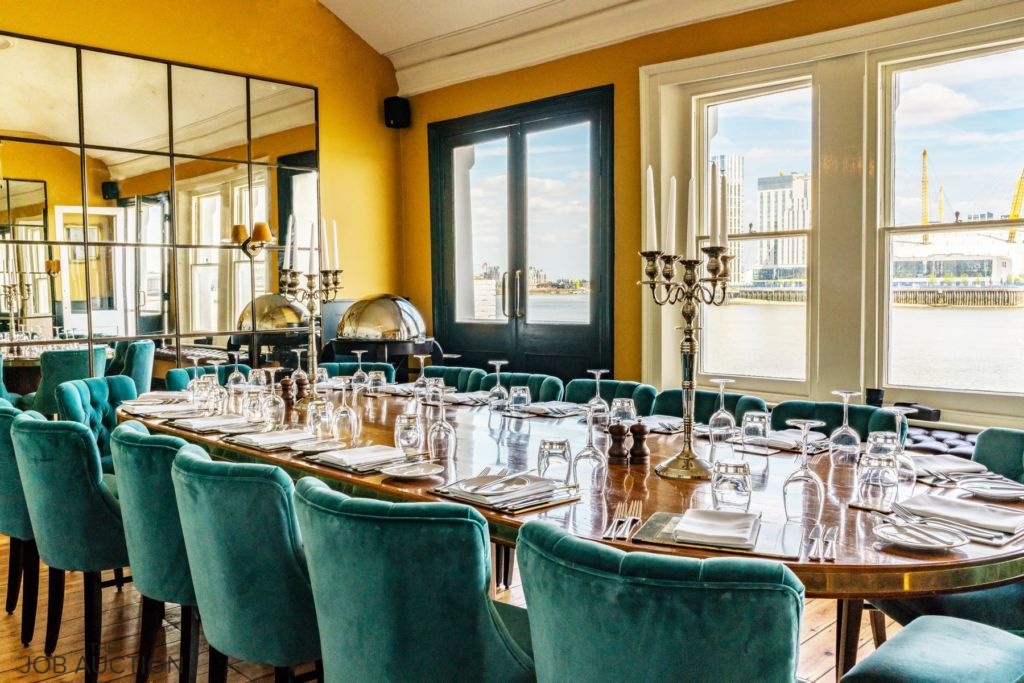 Food/Drink Variety
There is, quite honestly a treasure chest full of food, the kitchen staff on-hand to lovingly make a meal out of it. With set menus and a la carte, vegan options as well as meaty Sunday feasts that will likely cause choice paralysis (food coma), it's safe to say the Gun caters for everyone. That and the taps are bursting with ales, meads, ciders and lagers to offer the walking booze-encyclopedias that may roll in. Honestly, The Gun is one of the best pubs in London.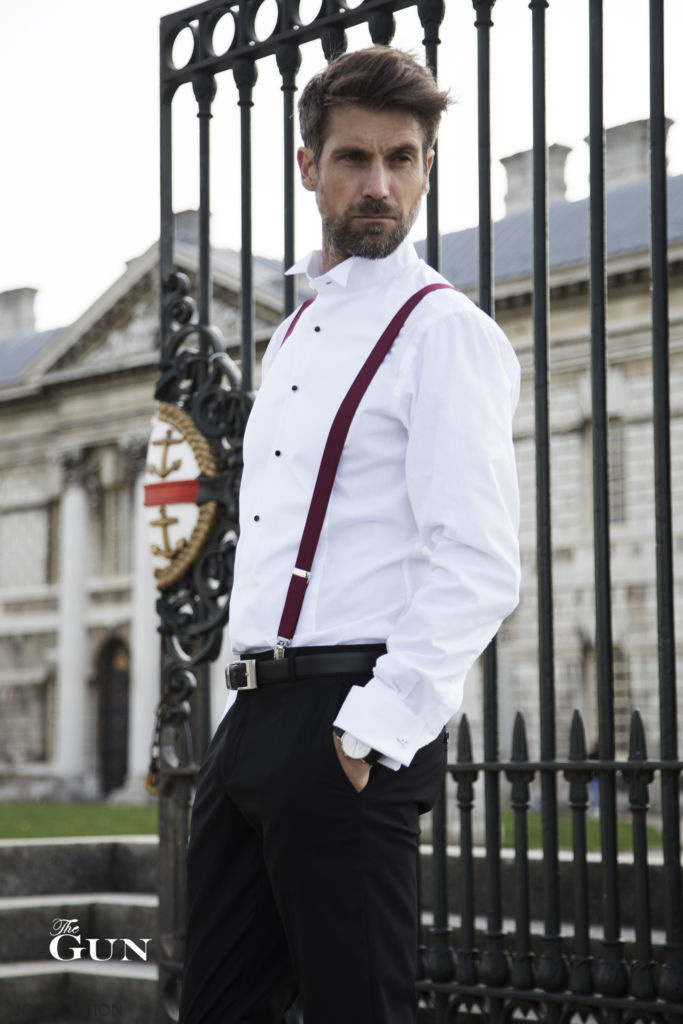 Win!
Enter our giveaway now (on our blog) to be in with a chance of winning a 3-Course meal for 2 people and a bottle of house wine at The Gun. Good luck!